Archive for February, 2007
February 26th, 2007
Well we finally got our first decent snow of the winter season and it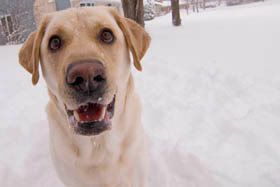 was awesome!!  Kodak experienced his first deep snow ballyhoo complete with lots of jumping around and burying his head in it to search for who knows what.

Where I live we received about 15 inches and now it looks like we have another storm on the way that may dump another foot or more along with thunder and lightning :)
Bring it on!
February 4th, 2007
Welcome to my first blog f2point8. I thought I would never be a blogger, but I had second thoughts. Mainly to continue working on design concepts and learn the new technologies behind it all.
The overall theme of the blog is (if you cannot tell) photography. I will be providing tips, share photos and offer occasional podcasts as a learning resource. Hopefully it will be of benefit to someone :)
Finally, mixed in with it all I would like to have a forum to vent and comment about things going on locally, nationally and around the world. Again it would be great if someone reads along and adds to the discussion.
Enjoy f2point8 and please contribute.
Kevin